1999 Reunion
We Can't Wait to See You For your 20th GA Reunion!
12-2:30pm - Reunion HQ at GA-PC Day
GA-PC games begin at 10am at Penn Charter. Stop by the Reunion Headquarters tent between 12 and 3 to catch up with classmates, take your class photo, and pick up your reunion gift.
1:30pm - Class of '99 Photo in Reunion HQ
7pm - 20th REUNION CELEBRATION
Home of Abigail and Alex Duffine

To RSVP please contact Lauren Weihenmayer '99 who is taking all class responses via Paperless Post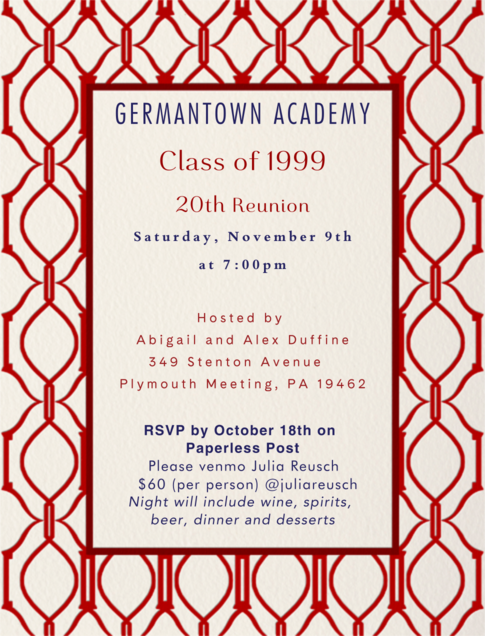 Alex Duffine
Chris Goodchild
Pete Jennings
Jeremy Menkowitz
Julia Reusch
Lauren Weihenmayer
Don't let these classmates miss our reunion! CLICK HERE or call 267-405-7100 if you have updated contact information on these Patriots:

Tara DellaFranzia Clapper
Eve M. Cohen
Elizabeth A. Eisenstein
Rachel S. Gorham
Elizabeth A. Grau
Lovisa I. Gustafsson
Kelly E. McCallion
Marguerite McDonald
Ryan A. Mest
Andre Nyce
Georgia A. Schlessman
Michael S. Taggart
Nathan K. Wachter
Tutte R. Watson
Carly B. Weiss